By:
Maggie Marshall
| Posted in:
Connection with Nature
,
Grief Emotions
|
Monday, Jun 13, 2016 - 9:24pm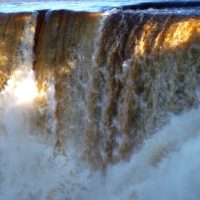 Do emotions like sadness ever erupt unexpectedly for you, with no seeming trigger?
For me, the tears and sadness seemed to come out of nowhere.  This disconnection from my brother, my last close relative, hit me in the heart, instead of just my mind. I miss him so much, but there is little I can do about it.
So what do I do with this feeling? I decide to go for a walk to the forest and the waterfall.
Letting Go
The falls are just roaring these days. I feel their power. I am mesmerized by it. The water is a swirl of snow and caramel, or that is what it reminds me of – taffy on snow.  I feel like throwing myself in.  Not because I want to die but because I wonder what it would feel like to just be a drop of water in such an immense (more…)